Poorer children priced out of learning instruments but school music programmes benefit the wider community

This article by Eira Winrow, PhD Research Candidate and Research Project Support Officer and Rhiannon Tudor Edwards, Professor of Health Economics, at the Centre for Health Economics and Medicinces Evaluation is republished from The Conversation under a Creative Commons license. Read the original article.
Years of austerity in the UK have bitten away at school budgets, and the arts have suffered heavily. Schools can no longer afford to employ teaching assistants, so it is little wonder that local authorities have cut school music funding.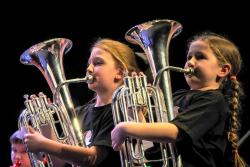 A performance by Codi'r To members.Schools are responsible for their own budgets, and musical instrument lessons that were traditionally subsidised by councils have been cut down in some districts. Now, the Musicians' Union has found that children living in the poorest areas are no longer getting the exposure to music and the arts that they so often only get in school. With parents being asked to subside instrument lessons, 41% of low-income families have said that they cannot do so due to their limited household budget.
Research shows that if music is made enjoyable for school-age children, there are more benefits than just being able to understand notes or play an instrument. There is evidence to suggest that children's listening, reading, and language skills can all be developed by effective school music programmes. One study from the US also found that pupils engaged in music activities communicated more with teachers and parents, while the parents themselves built friendships with one another. And there is a well-being aspect to this too. A study of an American community choir for ten to 14-year-old boys found it had social, spiritual and emotional benefits.
Now our research has found that there is a huge economic benefit to children having musical education. For every £1 invested in a north Wales community programme, we saw as much as £6.69 created in social value. Social value allows us to consider the wider benefits of a programme, including those that are not usually valued in pounds and pence.
Raising the roof
For 18 months, we worked closely with Codi'r To ("Raise the Roof"), a Welsh community regeneration programme set up in 2014. More than 280 children from two socio-economically challenged communities in Gwynedd take part in the scheme, from nursery age through primary school. The team behind Codi'r To has been working on music projects in the area for several years and recently adapted a Venezuelan programme, El Sistema, which seeks to achieve social change through music, and improve educational and well-being outcomes for children.
These sessions take place during the school day at no cost to the participants. Professional music tutors work with the children and teachers, giving them the opportunity to learn to play brass and percussion instruments. They can then play in the school orchestra or samba group. Codi'r To also works to bring live music to the community, and create opportunities for the pupils to perform in public.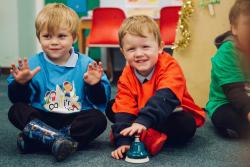 Participants in classroom-based Codi'r To activities.Our work was focused on producing a social return on investment evaluation of the programme. This measures a wide range of benefits, including social, environmental and economic factors. It identifies benefits for participants as well as those who may be directly affected by the results – the family members, wider school, local community and Codi'r To itself.
After identifying the cost of setting up the programme, the yearly running costs and putting a value on the time and other inputs from all of the stakeholders, we calculated the social value of every pound invested in it as a ratio of almost 1:7. Surprisingly, only 48% of the social value generated by Codi'r To was for the pupils. The other 51% of the social value was for family members of the children taking part. This percentage was driven by parents telling us that Codi'r To brought them closer to the community. The remaining 1% of benefit was divided between the wider school and the community.
We based this social value on findings that showed children's confidence was raised (which we gave a proxy value of £238 per child), their behaviour improved at home (£711 per family) and in school (£132 per child), and that they were more engaged with the community. Teachers and the wider school benefited from more harmonious classrooms (£149 per classroom), improved behaviour and better relationships between the pupils (£419 per school). Families felt that they were more a part of the community (£2,925 per person) had better relationships with the school (£10.74 per hour of contact) and experienced better behaviour from their children at home.
Despite these varied benefits, Codi'r To depends on charity funding and
children from low-income familes are less likely to find careers in the arts and creative industries, and less likely to be involved in after school clubs which include the arts or cultural elements too. Going forward, charitable programmes such as Sistema Cymru's Codi'r To may be the only chance some children have to experience music and creative activities.
Hans Christian Andersen once said: "Where words fail, music speaks." Perhaps it's time for less talk and more action when it comes to getting children involved in the arts. The value of schemes like Codi'r To clearly speak for themselves.

Publication date: 13 November 2018