Reports and Publications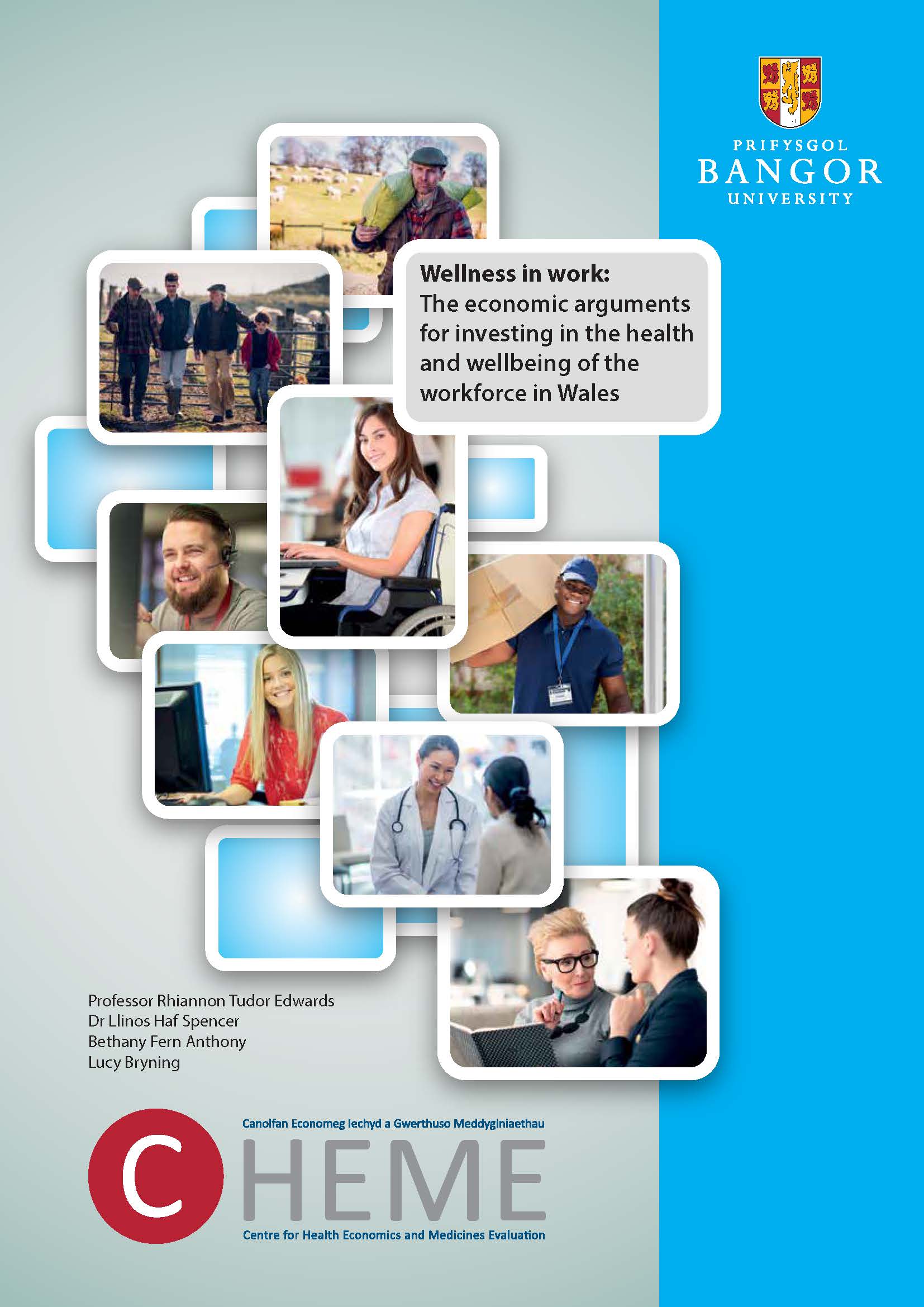 2018
De Geest S, Zullig LL, Dunbar-Jacob J, Helmy R, Hughes DA, Wilson IB, Vrijens B. ESPACOMP Medication Adherence Reporting Guideline (EMERGE). Ann Intern Med. 2018 Jun 26. doi: 10.7326/M18-0543.
Thorn JC, Brookes ST, Ridyard C, Riley R, Hughes DA, Wordsworth S, Noble SM, Thornton G, Hollingworth W. Core Items for a Standardized Resource Use Measure: Expert Delphi Consensus Survey. Value Health. 2018;21(6):640-649.
Swift B, Jain L, White C, Chandrasekaran V, Bhandari A, Hughes DA, Jadhav PR. Innovation at the Intersection of Clinical Trials and Real-World Data Science to Advance Patient Care. Clin Transl Sci. 2018 May 16. doi: 10.1111/cts.12559.
Hughes DA, Plumpton CO. Rare disease prevention and treatment: the need for a level playing field. Pharmacogenomics. 2018;19(3):243-247.
Hughes DA. Economics of Pharmacogenetic-Guided Treatments: Underwhelming or Overstated? Clin Pharmacol Ther. 2018;103(5):749-751.
Varnava A, Bracchi R, Samuels K, Hughes DA, Routledge PA. New Medicines in Wales: The All Wales Medicines Strategy Group (AWMSG) Appraisal Process and Outcomes. Pharmacoeconomics. 2018;36(5):613-624.
Harwood RH, van der Wardt V, Goldberg SE, Kearney F, Logan P, Hood-Moore V, Booth V, Hancox JE, Masud T, Hoare Z, Brand A, et al. A development study and randomised feasibility trial of a tailored intervention to improve activity and reduce falls in older adults with mild cognitive impairment and mild dementia. Pilot Feasibility Stud. 2018;4:49.
Kinderman P, Butchard S, Bruen AJ, Wall A, Goulden N, Hoare Z, Jones C, Edwards RT. A randomised controlled trial to evaluate the impact of a Human Rights Based Approach to dementia care in inpatient ward and care home settings. Health Services and Delivery Research (HS&DR). 2018;6(13). Doi: https://doi.org/10.3310/hsdr06130
Morrison V, Spencer LH, Totton N, Pye K, Yeo ST, Butterworth C, Hall L, Whitaker R, Edwards RT, Timmis LJ, Hoare Z, Neal RD, Wilkinson C, Leeson S. Trial of Optimal Personalised Care After Treatment – Gynaecological Cancer (TOPCAT-G) A Randomized Feasibility Trial. Int J Gynecol Cancer. 2018;28(2):401-411.
Chim L, Salkeld G, Kelly PJ, Lipworth W, Hughes DA, Stockler MR. Community views on factors affecting medicines resource allocation: cross-sectional survey of 3080 adults in Australia. Aust Health Rev. 2018 Apr 19. doi: 10.1071/AH16209
Lee R, Yeo ST, Rogers SN, Caress AL, Molassiotis A, Ryder D, Sanghera P, Lunt C, Scott B, Keeley P, Edwards RT, Slevin N. Randomised feasibility study to compare the use of Therabite with wooden spatulas to relieve and prevent trismus in patients with cancer of the head and neck. Br J Oral Maxillofac Surg. 2018;56(4):283-291.
Rogers SN, Lowe D, Lowie C, Yeo ST, Allmark C, Mcavery D, Humphris GM, Flavel R, Semple C, Thomas SJ and Kanatas A. Improving quality of life through the routine use of the patient concerns inventory for head and neck cancer patients: a cluster preference randomised controlled trial. BMC Cancer. 2018;18(1):444.
Bourke SM, Plumpton CO, Hughes DA. Societal Preferences for Funding Orphan Drugs in the United Kingdom: An Application of Person Trade-Off and Discrete Choice Experiment Methods. Value Health. 2018;21(5):538-546.
Harrington DM, Davies MJ, Bodicoat DH, Charles JM, Chudasama YV, Gorely T, Khunti K, Plekhanova T, Rowlands AV, Sherar LB, Edwards RT, Yates T, Edwardson CL. Effectiveness of the 'Girls Active' school-based physical activity programme: A cluster randomised controlled trial. Int J Behav Nutr Phys Act. 2018;15(1):40
2017
Ziwary SR, Samad D, Johnson CD, Edwards RT. Impact of place of residence on place of death in Wales: an observational study. BMC Palliat Care. 2017;16(1):72.
Bray N. Considering the role of health economics in pyoderma gangrenosum and other dermatology research. Br J Dermatol. 2017;177(6):1475-1476.
Roberts JL, Din NU, Williams M, Hawkes CA, Charles JM, Hoare Z, Morrison V, Alexander S, Lemmey A, Sackley C, Logan P, Wilkinson C, Rycroft-Malone J, Williams NH. Development of an evidence-based complex intervention for community rehabilitation of patients with hip fracture using realist review, survey and focus groups. BMJ open. 2017;7(10):e014362.
Hawkins J, Edwards M, Charles J, Jago R, Kelson M, Morgan K, Murphy S, Oliver E, Simpson S, Edwards RT, Moore G. Protocol for a feasibility randomised controlled trial of the use of Physical ACtivity monitors in an exercise referral setting: the PACERS study. Pilot Feasibility Stud. 2017;3:51.
Moniz-Cook E, Hart C, Woods B, Whitaker C, James I, Russell I, Edwards RT, Hilton A, Orrell M, Campion P, Stokes G, Jones RSP, Bird M, Poland F, Manthorpe J. Challenge Demcare: management of challenging behaviour in dementia at home and in care homes–development, evaluation and implementation of an online individualised intervention for care homes; and a cohort study of specialist community mental health care for families. NIHR Programme Grants for Applied Research 5(15). DOI: 10.3310/pgfar05150.
Williams NH, Roberts JL, Din NU, Charles JM, Totton N, Williams M, et al. Developing a multidisciplinary rehabilitation package following hip fracture and testing in a randomised feasibility study: Fracture in the Elderly Multidisciplinary Rehabilitation (FEMuR). Health Technology Assessment 2017; 21: 44 https://dx.doi.org/10.3310/hta21440.
Hill-McManus D, Soto E, Marshall S, Lane S, Hughes D. Impact of non-adherence on the safety and efficacy of uric acid-lowering therapies in the treatment of gout. Br J Clin Pharmacol. 2017 Sep 9. doi: 10.1111/bcp.13427.
Ridyard CH, Plumpton CO, Gilbert RE, Hughes DA. Cost-Effectiveness of Pediatric Central Venous Catheters in the UK: A Secondary Publication from the CATCH Clinical Trial. Front Pharmacol. 2017 Sep 19;8:644.
Hagemi A, Plumpton C, Hughes DA. Renal transplant patients' preference for the supply and delivery of immunosuppressants in Wales: a discrete choice experiment. BMC Nephrol. 2017 Oct 2;18(1):305.
Barker S, Lynch M, Hopkinson J. Decision making at the end of life for people with dementia by their informal carers: a rapid scoping review. Int J Palliat Nurs. 2017 Sep 2;23(9):446-456.
Powell GA, Bonnett LJ, Tudur-Smith C, Hughes DA, Williamson PR, Marson AG. Using routinely recorded data in the UK to assess outcomes in a randomised controlled trial: The Trials of Access. Trials. 2017 Aug 23;18(1):389.
Kamaraj DC, Bray N, Rispin K, Kankipati P, Pearlman J, Borg J. A conceptual framework to assess effectiveness in wheelchair provision. Afr J Disabil. 2017 Sep 8;6:355.
Bray N, Noyes J, Harris N, Edwards RT. Measuring the health-related quality of life of children with impaired mobility: examining correlation and agreement between children and parent proxies. BMC Res Notes. 2017 Aug 10;10(1):377.
Bray N, Noyes J, Harris N, Edwards RT. Defining health-related quality of life for young wheelchair users: A qualitative health economics study. PLoS One. 2017 Jun 15;12(6):e0179269.

Bray N, Burns P, Jones A, Winrow E, Edwards RT. Costs and outcomes of improving population health through better social housing: a cohort study and economic analysis. Int J Public Health. 2017 Dec;62(9):1039-1050.
Morris C, Dunkley C, Gibbon FM, Currier J, Roberts D, Rogers M, Crudgington H, Bray L, Carter B, Hughes D, Tudur Smith C, et al. Core Health Outcomes In Childhood Epilepsy (CHOICE): protocol for the selection of a core outcome set. Trials. 2017 Nov 28;18(1):572.
Williams NH, Jenkins A, Goulden N, Hoare Z, Hughes DA, Wood E, Foster NE, Walsh DA, Carnes D, Sparkes V, Hay EM, Isaacs J, Konstantinou K, Morrissey D, Karppinen J, Genevay S, Wilkinson C. Subcutaneous Injection of Adalimumab Trial compared with Control (SCIATiC): a randomised controlled trial of adalimumab injection compared with placebo for patients receiving physiotherapy treatment for sciatica. Health Technol Assess. 2017 Oct;21(60):1-180.
Plumpton CO, Alfirevic A, Pirmohamed M, Hughes DA. Cost effectiveness analysis of HLA-B*58:01 genotyping prior to initiation of allopurinol for gout. Rheumatology (Oxford). 2017 Oct 1;56(10):1729-1739.
Lynch M. Are we missing an opportunity in Nurse Education? Nursing and Healthcare International Journal. 2017;1(2):000112.
Morpeth L, Blower S, Tobin K, Taylor RS, Bywater TJ, Edwards RT, Axford N, Lehtonen M, Jones C, Berry V. The effectiveness of the Incredible Years pre-school parenting programme in the UK: a randomised controlled trial. Child Care Practice. 2017. doi: 10.1080/13575279.2016.1264366
Hulbert-Williams N, Plumpton C, Flowers P, McHugh R, Neal R, Semlyen J, Storey L. The cancer care experiences of gay, lesbian and bisexual patients: A secondary analysis of data from the UK Cancer Patient Experience Survey. Eur J Cancer Care. 2017 doi: 10.1111/ecc.12670
Davies EH, Fulton E, Brook D, Hughes DA. Affordable orphan drugs: a role for not-for-profit organizations. Br J Clin Pharmacol. 2017;83(7):1595-1601
Prayle AP, Cox T, Smith SJ, Rycroft-Malone J, Thomas KS, Hughes DA, Smyth AR. Do guidelines for treating chest disease in children use Cochrane Reviews effectively? A systematic review. Thorax. 2017. doi: 10.1136/thoraxjnl-2016-208790
Ramanan AV, Dick AD, Jones AP, McKay A, Williamson PR, Compeyrot-Lacassagne S, Hardwick B, Hickey H, Hughes D, Woo P, Benton D, Edelsten C, Beresford MW; SYCAMORE Study Group. Adalimumab plus Methotrexate for Uveitis in Juvenile Idiopathic Arthritis. N Engl J Med. 2017;376(17):1637-1646
Chim L, Salkeld G, Kelly P, Lipworth W, Hughes DA, Stockler MR. Societal perspective on access to publicly subsidised medicines: A cross sectional survey of 3080 adults in Australia. PLoS One. 2017;12(3):e0172971
Sivaprasad S, Prevost AT, Vasconcelos JC, Riddell A, Murphy C, Kelly J, Bainbridge J, Edwards RT, Hopkins D, Hykin P and CLARITY Study Group, 2017. Clinical efficacy of intravitreal aflibercept versus panretinal photocoagulation for best corrected visual acuity in patients with proliferative diabetic retinopathy at 52 weeks (CLARITY): a multicentre, single-blinded, randomised, controlled, phase 2b, non-inferiority trial. Lancet. 2017;389:2193-2203
Taylor J, Bambrick T, Brand A, Bray N, Dutton M, Harper R, Hoare Z, Ryan B, Edwards RT, Waterman H, Dickinson C. Effectiveness of portable electronic and optical magnifiers for near vision activities in low vision: a randomised crossover trial. Ophthalmic Physiol Opt 2017. doi: 10.1111/opo.12379
2016
Johnson S, Richey R, Holmes E, Hughes D, Goebel A. A randomised, patient-assessor blinded, sham-controlled trial of external non-invasive peripheral nerve stimulation for chronic neuropathic pain following peripheral nerve injury (EN-PENS trial): study protocol for a randomised controlled trial. Trials. 2016;17(1):574
Nollett CL, Bray N, Bunce C, Casten RJ, Edwards RT, Hegel MT, Janikoun S, Jumbe SE, Ryan B, Shearn J, Smith DJ, Stanford M, Xing W, Margrain TH. Depression in Visual Impairment Trial (DEPVIT): A Randomized Clinical Trial of Depression Treatments in People With Low Vision. Investigative Ophthalmology & Visual Science 2016; 57: 4247-4254.
Moore A, Young C, Hughes DA. Economic studies in Motor Neurone Diseases: A systematic methodological review. Pharmacoeconomics 2016. DOI: 10.1007/s40273-016-0478-9
Hughes DA, Poletti-Hughes J. Profitability and Market Value of Orphan Drug Companies: A Retrospective, Propensity-Matched Case-Control Study. PLoS One. 2016 Oct 21;11(10):e0164681
Mulhern B, Pink J, Rowen D, Borghs S, Butt T, Hughes D, Marson A, Brazier J. Comparing generic and condition-specific preference-based measures in epilepsy: EQ-5D-3L and NEWQOL-6D. Value Health 2016; DOI: 10.1016/j.jval.2016.03.1860
Verhoef TI, Redekop WK, Langenskiold S, Kamali F, Wadelius M, Burnside G, Maitland-van der Zee AH, Hughes DA, Pirmohamed M. Cost-effectiveness of pharmacogenetic-guided dosing of warfarin in the United Kingdom and Sweden. Pharmacogenomics J. 2016 Oct;16(5):478-84
Bray N, Brand A, Taylor J, Hoare Z, Dickinson C, Edwards RT. Portable electronic vision enhancement systems in comparison with optical magnifiers for near vision activities: an economic evaluation alongside a randomized crossover trial. Acta Ophthalmol. 2016; doi:10.1111/aos.13255
Williams N, Roberts JL, Din N, Totton N, Charles JM, Hawkes CA, Morisson V, Hoare Z, Williams M, Pritchard AW, Alexander S, Lemmey A, Woods RT, Sackley C, Logan P, Edwards RT, Wilkinson C. Fracture in the Elderly Multidisciplinary Rehabilitation (FEMuR): a phase II randomised feasibility study of a multidisciplinary rehabilitation package following hip fracture. BMJ Open 2016;6:e012422 doi:10.1136/bmjopen-2016-012422
Bray N, Yeo ST, Noyes J, Harris N, Edwards RT. Prioritising wheelchair services for children: a pilot discrete choice experiment to understand how child wheelchair users and their parents prioritise different attributes of wheelchair services. Pilot and Feasibility Studies, 2016, 2:32. DOI 10.1186/s40814-016-0074-y.
Yeo ST, Bray N, Haboubi H, Hoare Z, Edwards RT. Economic evidence for EUS staging in patients with gastro-oesophageal cancer (GOC): protocol for a systematic review. PROSPERO 2016:CRD42016043700 Available from: http://www.crd.york.ac.uk/PROSPERO/display_record.asp?ID=CRD42016043700
Jones C, Busse M, Quinn L, Dawes H, Drew C, Kelson M, Hood K, Rosser A, Edwards RT. The societal cost of Huntington's disease: are we underestimating the burden? European Journal of Neurology. 2016;23(10):1588-90.
Newman A, Baber M, O'Brien D, Goulding A, Jones CH, Howson T, Jones C, Parkinson C, Taylor K, Tischler V, Windle G. Carrying out research across the arts and humanities and social sciences: Developing the methodology for Dementia and Imagination, Cultural Trends. 2016; 25(4), pp. 1-15
Watermeyer, T.J., Hindle, J.V., Roberts, J, Lawrence CL, Martyr A, Lloyd-Williams H, Brand A, Gutting P, Hoare Z, Edwards RT, Clare L. Goal Setting for Cognitive Rehabilitation in Mild to Moderate Parkinson's Disease Dementia and Dementia with Lewy Bodies. Parkinsons Dis. 2016;2016:8285041.
Hughes D, Charles J, Dawoud D, Edwards RT, Holmes E, Jones C, Parham P, Plumpton C, Ridyard C, Lloyd-Williams H, Wood E, Yeo ST. Conducting Economic Evaluations Alongside Randomised Trials: Current Methodological Issues and Novel Approaches. PharmacoEconomics. 2016. DOI: 10.1007/s40273-015-0371-y
Plumpton CO, Morris T, Hughes D, White I. Multiple imputation of multiple multi-item scales when a full imputation model is infeasible. BMC Research Notes. 2016; 9:45
Gilbert RE, Mok Q, Dwan K, Harron K, Moitt T, Millar M, Ramnarayan P, Tibby SM, Hughes D, Gamble C; CATCH trial investigators. Impregnated central venous catheters for prevention of bloodstream infection in children (the CATCH trial): a randomised controlled trial. Lancet. 2016 Apr 23;387(10029):1732-42
Hindle JV, Watermeyer TJ, Roberts J, Martyr A, Lloyd-Williams H, Brand A, Clare L. Cognitive rehabilitation for Parkinson's disease demantia: a study protocol for a pilot randomised controlled trial. Trials, 2016; 17(1), 1
Clarkson S, Axford N, Berry V, Edwards TE, Bjornstad G, Wrigley Z, Charles J, Hoare Z, Ukoumunne OC, Matthews J and Hutchings J. Effectiveness and micro-costing of the KiVa school-based bullying prevention programme in Wales: study protocol for a pragmatic definitive parallel group cluster randomised controlled trial. BMC Public Health 2016; 16:104. DOI 10.1186/s12889-016-2746-1
Plumpton CO, Roberts D, Pirmohamed M, Hughes DA. A Systematic Review of Economic Evaluations of Pharmacogenetic Testing for Prevention of Adverse Drug Reactions 2016. doi: 10.1007/s40273-016-0397-9
Holmes EA, Morrison VL, Hughes DA. What influences persistence with medicines? A multinational discrete choice experiment of 2549 patients. British Journal of Clinical Pharmacology. 2016 doi: 10.1111/bcp.12971
Breckenridge A, Hughes D. Prof. John Urquhart. Br J Clin Pharmacol. 2016 May 2. doi: 10.1111/bcp.12974.