The Economics of Rapid Diagnostics to reduce Antibiotic Prescribing in NHS Wales (TRaDe)
Behavioural research to help reduce antibiotics use in Wales
Dr Emily Holmes, Senior Research Fellow at Bangor University's School of Health Sciences has been awarded a £352,254 Health Research Fellowship to conduct Antibiotic Research in Wales. This Fellowship, funded by Welsh Government though Health and Care Research Wales, aims to build capacity in health research by supporting individuals to become independent researchers and to undertake high-quality research projects.
Dr Holmes will be conducting a 5-year research project to explore "The Economics of Rapid Diagnostics to reduce Antibiotic Prescribing in NHS Wales (TRaDe)". The TRaDe project will gather public and professional opinion on quick and easy tests that can be performed during a clinic appointment (e.g. finger prick) and help to identify whether a patient needs antibiotics. It will assess how peoples' views and behaviour affect the value (cost effectiveness) of these tests and make recommendations on the best way to organise testing services to reduce antibiotic prescribing in NHS Wales.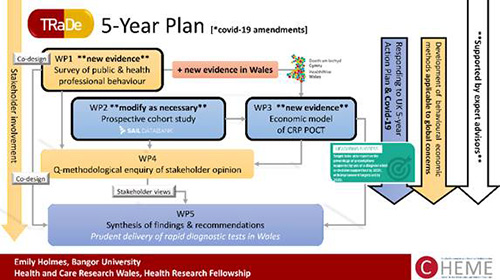 A growing number of infections, such as pneumonia, are becoming hard to treat, as the antibiotics used to treat them become less effective. This leads to longer hospital stays, higher medical costs and more people dying. Tackling antimicrobial resistance is a Welsh Government priority. In Wales, approximately 3 in 10 prescriptions dispensed in primary care are for an antibiotic, but over 20% of these may be unnecessary. Reducing unnecessary prescribing is essential but identifying bacterial infection can be challenging. The UK Action Plan to tackle antimicrobial resistance, developed collaboratively with devolved administrations, details an urgent need to support access to rapid diagnostic tests at the point of care (HM Government 2019). By learning more about peoples' preferences for testing and antibiotic use, we can find out the best way to test while ensuring good value for money for the NHS.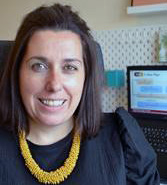 Dr Emily Holmes, Senior Research Fellow, CHEME
Contact details:
Dr Emily Holmes
Senior Research Fellow | Centre for Health Economics & Medicines Evaluation | Bangor University
Ardudwy | Normal Site | Bangor University | Holyhead Road | Bangor | Wales | LL57 2PZ
Tel: +44 (0)1248 382709 | Twitter: @EAFHolmes | Web: http://cheme.bangor.ac.uk
Prifysgol Bangor | Ardudwy | Safle'r Normal | Ffordd Caergybi | Bangor | Cymru | LL57 2PZ