Entrepreneurial graduate through to Santander regional semi-finals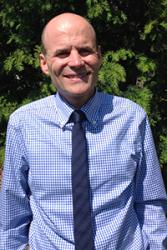 Dr Ned HartfielA Bangor University PhD graduate and entrepreneur has reached the Santander Universities Entrepreneurship Awards 2017 regional semi-finals.
Following his success in the first stage of the competition earlier this year, Dr Ned Hartfiel will now have to pitch to judges of the merits of his Healthy Back company against nine other hopefuls in the North and Ireland regional semi-final.
Already trading, Ned's company delivers a healthy back programme, which addresses the issue of back pain and sickness absences in the workplace. Having completed a postgraduate degree in Health Economics, Ned is now winning corporate clients for his workplace yoga-based programme, which he has delivered to employees at Gwynedd County Council, Conwy County Council, the Merseyside Police, and Great Ormond Street Hospital in London. Research conducted by Ned for his PhD, showed that employees practising the Programme over six months had far fewer days off sick with back pain than a control group.
With business support through B-Enterprising at the University's Careers & Employability Service, Ned is now in discussions to work with North Wales Police, Santander in Liverpool, Northumbria Police and Siemens.
Delighted with the news about reaching the regional semi-finals, Ned said: "Our programme has been developed by GPs, physiotherapists, osteopaths and yoga therapists. It's safe, effective and cost-effective for organisations concerned about sickness absence due to musculoskeletal conditions. It's an instructor-led programme in the workplace, supported by online resources for home practice. To date, 90% of employees who have completed our six-week programme have reported less back pain and more wellbeing. With thanks to Santander Universities and with the on-going support from Bangor University's B-Enterprising Team, our company has gone from strength to strength, and we hope to help more employees improve their well-being."
If successful in the regional semi-finals, Ned will go through to the UK finals in October and compete for a package of £25k of seed funding, mentoring and support, exclusive access to an acceleration week and a fully funded intern from Santander Universities in the UK finals.
Related Stories:
Bangor University's Santander Entrepreneurship Pitchers
Publication date: 26 May 2017