News
Well done students on your excellent presentations about health economics in the news!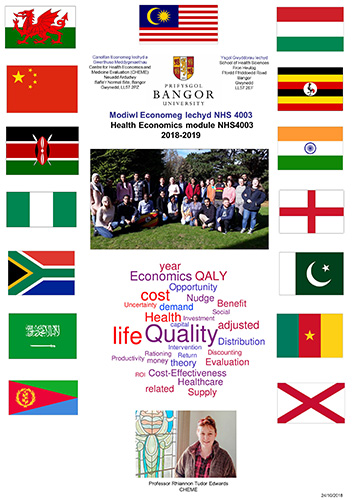 Codi'r To music project brings harmony to homes and social value to schools and communites
An economic evaluation of the value of Sistema Cymru - Codi'r To, a musical initiative in two schools in Gwynedd, reveals that the value of the project extends far beyond the playing of musical instruments and has brought a greater harmony to many of the households involved. Read more here.
Poster award for CHEME at International Society for Pharmaco Economic and Outcomes Research (ISPOR) conference
Members of the pharmacoeconomics and medicines evaluation section of the Centre for Health Economics and Medicines Evaluation (CHEME) attended the International Society for Pharmacoeconomics and Outcomes Research (ISPOR) Annual European Congress at Glasgow on the 6th-8th November. Click here to read on.
Pharmaceutical companies are profiting from rare diseases
Incentives intended to stimulate the development of more treatments for rare diseases are being exploited to boost the profits of pharmaceutical companies, new research led by Bangor University shows.
Click here to read on.
Transforming Young Lives – The Economic Argument for Investing in Early Years, report launched today by CHEME:
This report highlights evidence that the foundations for thriving are laid down long before birth, with a critical time for investment occurring pre-conception and in early pregnancy. Wales already has a significant policy direction and investment in programmes and practice relating to Early Years. To build on this we looked at the economic evidence to support investment in services and programmes targeted at children under 7 years. We found that by investing in the health and well-being of babies and young children, Wales has an opportunity to benefit from both short and long-term dividends right across society in the future.
Six from Bangor University appointed Health and Care Research Wales Senior Research Leaders
Click here to read on.
ESRC Award for Best Impact on Public Policy
At Bangor University's annual Impact & Innovation Awards ceremony, Professor Dyfrig Hughes and colleagues from the pharmacoeconomics section of CHEME won the 2014 ESRC Impact Acceleration Award for Best Impact on Public Policy and/or Public Services.

CHEME's research into evidence-based policies for new medicines has had an impact through informing the decision-making processes by which new medicines are assessed. Our research also informed the decisions of the Welsh and Scottish Governments to reject the notion of Cancer Drugs Funds. Unlike the NHS in England, where £200m is ring-fenced annually for cancer medicines, policies in Wales and Scotland aim to reduce inequalities in the health service by ensuring that patients with all conditions can access effective treatments.
The Centre also works closely with the All Wales Therapeutics and Toxicology Centre to conduct health economic assessments of new medicines for Wales. These assessments (over 200 to date) inform decisions made by the All Wales Medicines Strategy Group (AWMSG), and have accounted for £263m in expenditure by the NHS in Wales for the period 2006-12.

On receiving the Award, Professor Dyfrig Hughes commented: "Since establishing pharmacoeconomics research within CHEME almost a decade ago, the focus has always been to achieve high quality outputs which impact directly on health policy. I am delighted that we have played a small part in shaping some NHS policies and am honoured to receive this award in recognition of these achievements."