Public Health and Prevention Economics Research
The Public Health and Prevention Economics Research Group (PHERG) is part of the Centre for Health Economics and Medicines Evaluation (CHEME) within the School of Medical and Health Sciences and part of the multidisciplinary Bangor Institute for Health and Medical Research (BIHMR) group. Our research adopts a life-course model applying methods of health economics evaluation to trials and other study designs in the evaluation of public health and psychosocial interventions at both programme and system level. Our research has applications within the NHS, third sector organisations, and Government. Much of our research is funded by NIHR, HTA, charities, and Welsh Government.
PHERG is led by Rhiannon Tudor Edwards BSc. Econ, M.A., D.Phil., Hon. MFPH, Professor of Health Economics.
Our Skill Set
With a research and policy lens, we apply health economics to public health and prevention, well-being and well-becoming.

The methods we use
Cost–effectiveness analysis (CEA)
Cost–benefit analysis (CBA)
Social Return on Investment (SROI)
Realist synthesis reviews of evidence
Systematic reviews of evidence
Rapid and scoping reviews of evidence
Discrete choice experiment modelling
Markov modelling
International evidence points towards the greatest return on investment coming from investment in the first three years of life. Our research shows that positive preventive actions during child development are the most important ways to intervene and yield the greatest return on investment to society.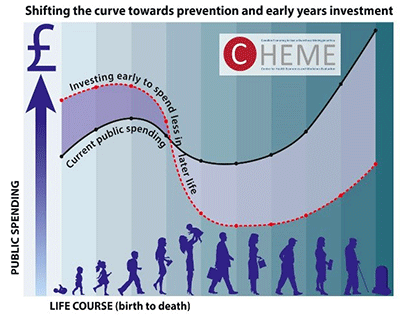 The CHEME Transforming Young Lives across Wales report can be found here.
This new infographic shows how factors impact on wellbeing through life course.
Well-being and well-becoming through the life-course in public health economics research and policy: A new infographic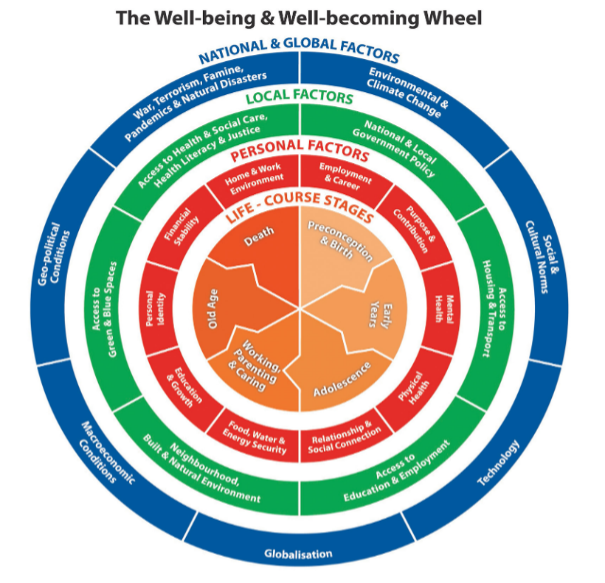 Research and policy support activities
Methodology of public health economics
Handbooks in Health Economic Evaluation, Applied Health Economics for Public Health Practice and Research, edited by Rhiannon Tudor Edwards and Emma McIntosh, published by Oxford University Press.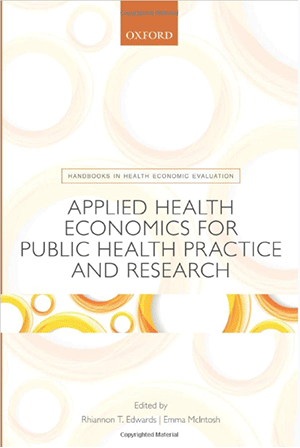 Current Projects
Horizon Europe Invest4Health
The Centre for Health Economics and Medicines Evaluation (CHEME) are key partners in the EU Invest4Health project. This Horizon Europe collaboration across eight countries has been funded as one of the four large research programmes on the HORIZON-HLTH-2022-CARE-08-04 — Better financing models for health systems call. CHEME's key contribution to this project include exploring what is meant by Smart Capacitating Investment (SCI), across the public, private and voluntary sectors at a macro, meso and micro level, and testing and evaluating proposed SCI models that aim to provide sustainable funding for preventive health measures in the post-COVID-19 healthcare landscape.
Advice on Prescription
Citizens Advice on Prescription (CAP) is a welfare and social prescribing intervention provided by Citizens Advice L

iverpool Health Programme | Citizens Advice (citizensadviceliverpool.org.uk). The aim of CAP is to provide a single 'gateway' from health services in Liverpool into a holistic social and welfare support offer. A key element of the CAP service is that it is designed both to improve the lives of individuals, but also provide support for the health care system, with the aim to reduce the pressures from non-health issues on the health service.
The public health economics team, in conjunction with The University of Liverpool, are currently evaluating the effectiveness and cost-effectiveness of the CAP program. For the health economic analyses, we will be using health related quality of life (HRQOL) utility values as well as changes in health service usage (e.g., number of GP and hospital visits), and program costings to carry out a cost effectiveness analysis (CEA) and social return on investment (SROI) on the intervention.
KiVa
The Centre for Health Economics and Medicines Evaluation (CHEME), Bangor University, are delivering the health econo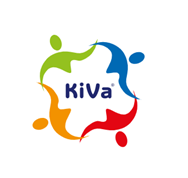 mic evaluation of the universal KiVa anti-bullying programme as part of the UK Stand Together trial. Over 25% of UK children are bullied on a regular basis and bullying in school can impact absenteeism, academic achievement and result in bullied children accessing more mental health services compared to non-bullied children. The potential detrimental life course health and social care consequences highlight the importance of a preventative public health approach to reducing childhood bullying. The UK Stand Together trial is providing the first large-scale randomised control trial evaluation of the KiVa programme in England and Wales, investigating if KiVa is more effective and cost-effective in reducing bullying in UK primary schools compared to schools' usual approach to addressing bullying. KiVa is a complex, multicomponent intervention delivered within a complex education system. We are applying a broad evaluative lens to deliver comprehensive and relevant cost-effectiveness evidence for decision-makers.
Our core staff working with Professor Edwards 
Alumni
PGR students
Postgraduate research opportunities/scholarship
We offer a Master by Research in Public Health and Prevention Economics.
Teaching
Medical students at North Wales Medical School, Bangor University.

Rhiannon offers student selected component (SSC; 2nd to 4th year) a 'Public health and prevention economics research across the life-course' experience project.
Students will have an opportunity to join the Public Health and Prevention Economics Research network at CHEME.
Rhiannon offers bespoke lectures on public health economics and related topics:
Health economics of well-being and well-becoming
Research projects and collaborations through the life-course
Early years and childhood
Adolescents and young people
Working age
Older age – living well for longer
Trio Shared Lives (short breaks for people with dementia), led by Bangor University, funded by Health and Care Research Wales, Welsh Government
Promoting Activity, Independence and Stability in Early Dementia (PrAISED) research programme, in collaboration with the University of Nottingham, funded by NIHR - current project
A randomised controlled trial and feasibility study of the effects of an e-health intervention 'iSupport' for reducing distress of dementia carers, especially in the ongoing pandemic of COVID-19, led by Bangor University, funded by NIHR – current project
The impact of peer support networks for those living with rare dementias, in collaboration with University College London, funded by ESRC and NIHR – current project
Living Well for Longer report, commissioned by Public Health Wales
Where and how we die well
Evaluation of medical devices and technologies
Economic evaluation of sight loss and sight preserving surgery
Access to counselling during sight loss survey, led by Bangor University – funded by North Wales Society for the Blind, current
Adjunctive Steroid Combination in Ocular Trauma (ASCOT), in collaboration with Moorfield's Eye Hospital and King's College London, funded by NIHR, current
WASh multicentre randomised controlled trial: water-assisted sigmoidoscopy in English NHS bowel scope screening, in collaboration with University Hospital of North Tees, funded by NIHR - completed
Routine use of Patient Concerns Inventory for head and neck cancer patients, in collaboration with Aintree Hospital, funded by NIHR, completed